We are travelers.

SAS flies to the Netherlands from/via Oslo, Copenhagen or Stockholm (depending on route).

We fly from all our destinations in Europe, the US (Boston, Chicago, Los Angeles, Miami, New York, San Francisco and Washington D.C.) and Asia (Tokyo, Shanghai, Beijing, Hong Kong and Singapore).   

SAS flies to Amsterdam in the Netherlands.
Fly with SAS to Amsterdam in the Netherlands
There's much more to see in the Netherlands than windmills, clogs and tulip. Fly Scandinavian Airlines to experience this small country in Northwestern Europe.
Go cycling in Holland
The Netherlands is a flat country, with 32 000 kilometers of bicycling paths. This makes it perfect for a holiday on two wheels. You'll find a bunch of different cycling routes to choose from, depending on how long you want your tour to be.
Rent a bicycle and explore the country by cycling in the countryside, or along the coastline. Cycling is the perfect way to explore this beautiful country.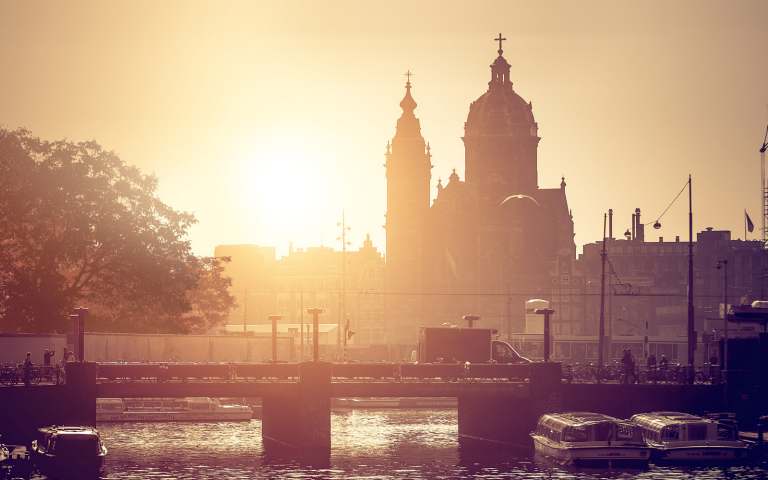 Always with SAS
At SAS, we strive to ensure our customers have a relaxed and comfortable journey. Regardless of which ticket type you carry, you'll always enjoy certain SAS customer benefits.

Always included in your flight is easy online check-in, coffee and tea onboard, up to 90% price reduction for children and use of the SAS App. 
CO2 offset with SAS EuroBonus
We are travelers.

EuroBonus gives you more of the world. It is the most popular loyalty program for travelers in Scandinavia. As a member of EuroBonus you will earn points on your flights with us and our partner airlines in Star Alliance. You can use the points to pay for your next trip, upgrade or rent a car, among other things.

We CO2 offset all tickets booked using a EuroBonus number. This means that we now carbon offset just over 40% of all the emission that our planes emit. Read more about our sustainability work