We are travelers.

SAS flies to Gothenburg in Sweden from/via Oslo, Copenhagen or Stockholm (depending on route). 

We fly from all our destinations in Europe, the US (Boston, Chicago, Los Angeles, Miami, New York, San Francisco and Washington D.C.) and Asia (Tokyo, Shanghai, Beijing, Hong Kong and Singapore).
SAS customers enjoy a 24-hour money back guarantee on any booking. If the trip is booked less than 24 hours before departure, you can cancel it up to 12 hours before departure.
Benefits on your flight to Gothenburg – book now
Be proactive and book your journey on SAS in advance, and you're likely to enjoy cheaper flights. You can get an overview of all our destinations in one spot, by visiting our low fare calendar. SAS customers can enjoy a 24-hour money back guarantee on their bookings so if you see a great offer, snap it up and decide later. 
Discounted tickets for kids
Experience Gothenburg with your children. SAS offers up to 90% discounts on children's tickets to make it more affordable to bring your kids on your holiday to Gothenburg.  
Board a flight to Gothenburg and soak up a Swedish seaport town
Attracting thousands of tourists each a year, Gothenburg is a Swedish town with a whole lot of character. Home to ancient neighbourhoods, original buildings, and canalside paths, Gothenburg is ideal those who like to combine city breaks with nature.    
When you're not visiting the traditional neighbourhood of Haga, home to original wood buildings and candlelit pubs, you'll likely be strolling through Gothenburg Botanical Gardens, riding rollercoasters at the Liseberg amusement park, or visiting the free zoo in Slottsskogen gardens. 
The list of things to do in Gothenburg is endless, and there's a little something for everyone.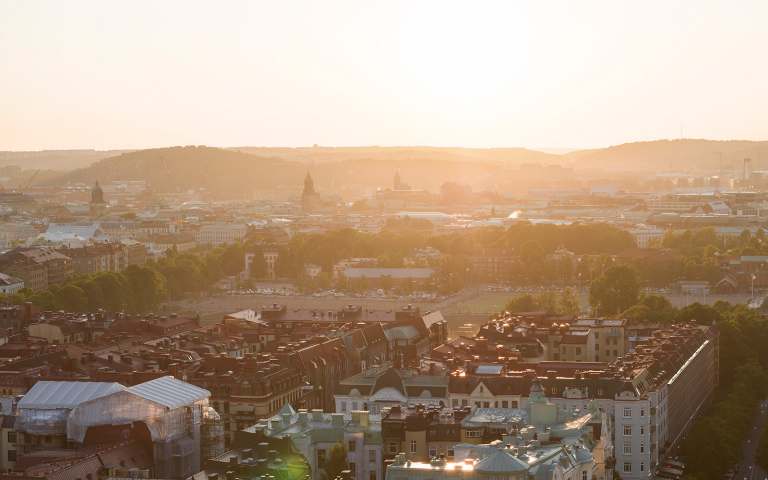 Always included in your trip to Gothenburg
At SAS, we aim to ensure all our customers have a relaxed and comfortable journey, regardless of which ticket type you carry. SAS travelers on a trip to Gothenburg will always enjoy easy online check-in, coffee and tea onboard and use of the SAS App. 
Explore the world with SAS EuroBonus
We are travelers.
EuroBonus is the most popular loyalty program for travelers in Scandinavia. Join EuroBonus and you will earn points on your flights with us and our partner airlines in Star Alliance. You can use the points to pay for your next trip, upgrade or rent a car, among other things. 
Where tickets are booked using a EuroBonus number, we now carbon offsets just over 40% of all the emission that our planes emit. Read more about our sustainability work
Accomodation and transportation in Gothenburg
While away from home you might need somewhere to stay and a way to get around. Through our partners you can easily find and book a hotel that suits you and rent a car that fits your needs.
Other popular SAS destinations