SAS customers enjoy a 24-hour money back guarantee on any booking. If the trip is booked less than 24 hours before departure, you can cancel it up to 12 hours before departure.
Benefits on your flight to Sälen/Trysil – book now
If you want to enjoy cheaper flight tickets simply book your holiday on SAS in advance. For more details on the destinations we fly to, check our low fare calendar. All SAS customers enjoy a 24-hour money back guarantee on any booking so if you see a great offer, snap it up and make all plans later. 

Discounted tickets for kids
Experience Sälen/Trysil as a family. SAS offers up to 90% discounts on children's tickets to make it more affordable to bring your little ones on your trip to Sälen.

Board a flight to Sälen/Trysil and enjoy a winter ski holiday  
The small town of Sälen is found on Sweden's west coast, close to the Norwegian border, and is predominantly used as a gateway to some of the region's best ski slopes. The area is made up of several huge ski resorts, each offering the very best accommodation for a winter adventure. 

Whether you're here to tackle the Vassaloppsleden ski trail or hike the Kungsleden trail, both of which depart from Sälen village, there's plenty of things to do for everyone. Get ready to soak up one of Sweden's best-loved ski resorts. 
Trysil is Norway's largest skiing area, a 40-minute transfer from Scandinavian Mountains Airport. The skiing facilities are suitable for all abilities and the areas is well known for its well-groomed slopes.  Having been rated as the best place to go skiing in Norway for many years in succession by the World Ski Awards, the area offers well known restaurants and hotels, many of which are located close to the slopes. 

There are several things to do in and around Sälen/Trysil to suit all budgets.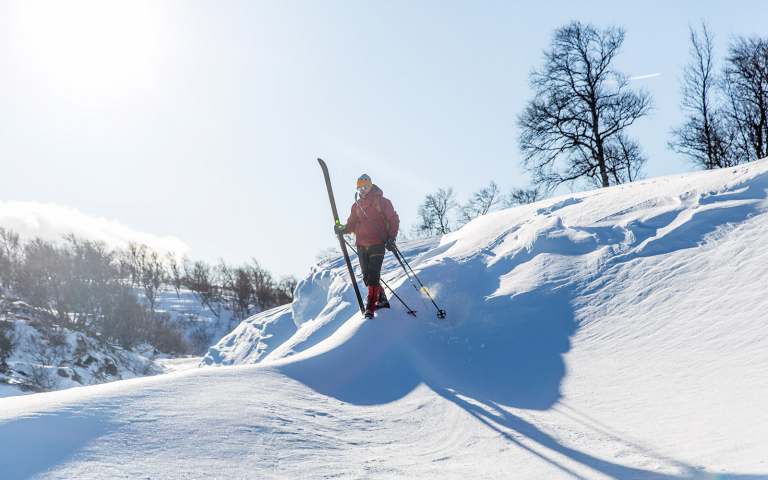 Always included in your trip to Sälen/Trysil
At SAS, we always aim to ensure our customers have a relaxed and comfortable journey. Regardless of which ticket type you carry, you'll always enjoy certain SAS customer benefits. Always included in your flight to Sälen/Trysil is easy online check-in, coffee and tea onboard and use of the SAS App.

Explore the world with SAS EuroBonus
We are travelers.
EuroBonus gives you more of the world and as a member of EuroBonus you will  earn points on your flights with us and our partner airlines in Star Alliance. You can use the points to pay for your next trip, upgrade or rent a car, among other things. 

We CO2 offset all tickets booked using a EuroBonus number. This means that we now carbon offset just over 40% of all the emission that our planes emit. Read more about our sustainability work
Accomodation and transportation in Sälen
At SAS you get access to great hotels in Sälen. Make your reservation at SAS and get all settled for your holiday in Sälen. If you'd like to book a rental car – you can do so here at SAS as well. 
Other popular SAS destinations