We are travelers.

SAS flies to Russia from/via Oslo, Copenhagen or Stockholm (depending on route).

We fly from all our destinations in Europe, the US (Boston, Chicago, Los Angeles, Miami, New York, San Francisco and Washington D.C.) and Asia (Tokyo, Shanghai, Beijing, Hong Kong and Singapore).   

SAS flies to St Petersburg in Russia.
Fly SAS to explore Russia
The St Petersburg area has plenty of interesting sites to see. 
Fly Scandinavian Airlines to St Petersburg and take the opportunity to visit the Winter palace and the Hermitage museum, St Isaac's view, Peter and Paul fortress and the Russian museum during your stay.
Borscht and pickles – Russian food
When in Russia – eat what the Russians eat. The local cuisine is more than vodka, caviar and borscht. Take the chance to try a genuine Russian beef stroganoff or Olivier salad while visiting.
Fancy a Russian pancake? Blinis are similar to French crepes, but since they are made with yeasted dough they are lighter than the French version. Blinis are filled with delicious things like ground meat, egg salad or cottage cheese. 
Russians are great at preserving their vegetables, and you'll find amazing pickled vegetables of every imaginable kind here. Have them with dinner or as a snack – pickles go great with vodka.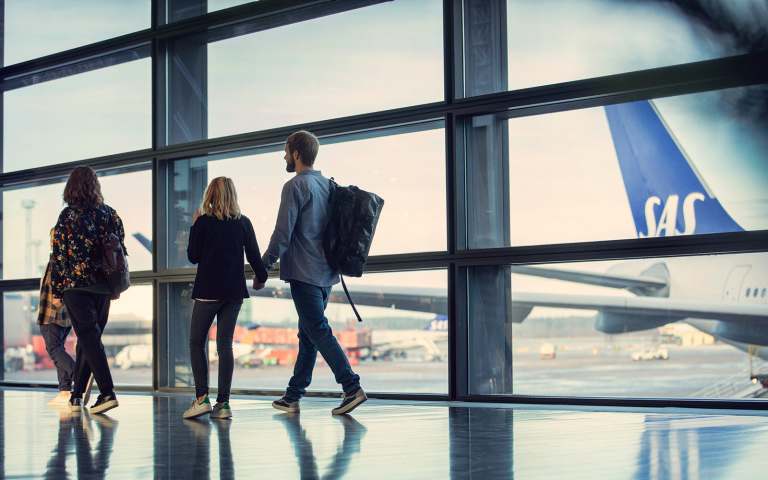 Always with SAS
At SAS, we strive to ensure our customers have a relaxed and comfortable journey. Regardless of which ticket type you carry, you'll always enjoy certain SAS customer benefits.

Always included in your flight is easy online check-in, coffee and tea onboard, up to 90% price reduction for children and use of the SAS App. 
CO2 offset with SAS EuroBonus
We are travelers.

EuroBonus gives you more of the world. It is the most popular loyalty program for travelers in Scandinavia. As a member of EuroBonus you will earn points on your flights with us and our partner airlines in Star Alliance. You can use the points to pay for your next trip, upgrade or rent a car, among other things.

We CO2 offset all tickets booked using a EuroBonus number. This means that we now carbon offset just over 40% of all the emission that our planes emit. Read more about our sustainability work