Follow the general recommendations and stay home if you feel sick
We work closely with the authorities in all Scandinavian countries, as well as international authorities and regulators. We recommend that you always follow the general recommendations set by health authorities in your country.

Stay home if you feel sick

Wash your hands frequently

Keep social distancing

Follow the guidelines set by local health authorities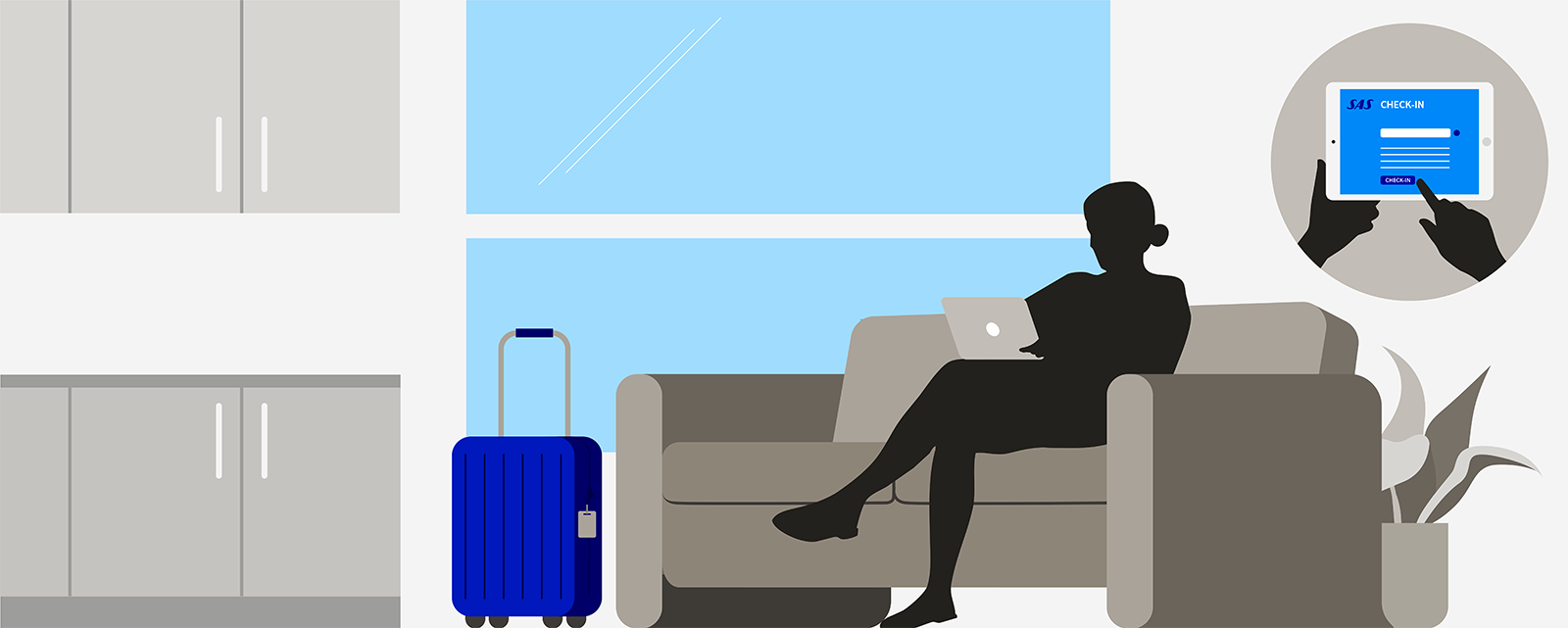 Before your trip
You can do a lot to prepare for your trip. Our digital self-service solutions saves time and help reduce contact at the airport.


Stay home if you feel sick

Ensure that you meet the necessary requirements to enter your final destination and country where you have a connecting flight

Get travel ready at home; pre-process your Corona related travel documents and check-in online

Purchase your face masks before leaving for the airport – homemade masks or masks made of cloth are not allowed. Please note that you have to change face mask at least every four hours and that you need face masks for the whole length of you trip
SAS Travel Ready Center – Upload travel documents before your trip
In our new Travel Ready Center, you can find up-to-date travel restrictions for your destination and upload required Covid-19 related travel documents. We will review uploaded travel documents and clear passengers for travel. Once approved, you can download your boarding card electronically. No need for manual processing at the airport – all self-service flows will be open.
Travel news and restrictions
Here we have collected important information regarding booking, refund rules, entry restrictions and travel certificates. Please make sure to keep yourself updated since entry restrictions may change on short notice. As a traveler you are responsible for making sure you meet the necessary requirements to enter your destination, before leaving for the airport. For guidance, please consult with government bodies, such as the Ministry for Foreign Affairs.
Face mask requirements
We require you to bring your own face mask, which covers both nose and mouth. SAS approves facemasks that are manufactured and intended for medical use, or of a similar standard. Homemade masks or masks made of cloth are not allowed. A face mask is required during the entire flight, from boarding to disembarkation. This applies to all of our flights. Children younger than 6 years are exempted from this rule. A face mask is only valid for four hours. This means you will have to bring as many face masks as you need during your travel. Remember that you might need an extra mask upon arrival. SAS also strongly recommend all customers to read the requirements of wearing a face mask at airports when traveling.
Coronavirus testing
Are you planning to travel and need a certificate proving you are fit to travel? Some countries require a negative corona test result (PCR-tests or a rapid antigen tests) and a medical certificate before you can board the aircraft or to enter the country. Some countries require it for transit as well. To ensure easy access to testing services at a discounted price we have partnered with the healthcare service companies Doktor24, Volvat, Vaccina and Qured. Here you can read more about different testing services for travel certificates.

At the airport
We have implemented several measures at the airport to ensure a safe journey for you. But you can also do a lot yourself. You should always follow the instructions given by our staff – they are here for your safety.

Get travel ready at home; pre-process your corona related travel documents and check-in online

Arrive well ahead of scheduled departure time

New routines and an updated food and beverage offering in the lounges that are open to minimize interactions, and extended cleaning procedures have been implemented

We have updated our boarding procedure to better facilitate social distancing
Boarding procedure

The boarding procedures have been adjusted to better enable social distancing. We require you to follow the instructions given by the gate staff. You should only start boarding when your zone is called out. You will be required to put on your face mask before boarding.

Social distancing at the airport

Do everything you can to keep social distancing at the airport. Keep distance in queues at check-in, security and at the gate.

On board your flight
The air on board your flight is kept clean using modern and highly efficient air filters, and we have adjusted our service concept to reduce contact.

We do our best to seat travelers across the cabin, to create as much distance as possible

Our cabin crew wears protective face masks on board

You are required to use a face mask covering mouth and nose during the entire flight, from boarding to disembarkation

Our aircraft are equipped with HEPA air filters to keep the air clean

All aircraft are cleaned and disinfected according to EASA (European Union Aviation Safety Agency) regulations

All non-essential loose items have been removed from the seat pocket

The meal service is adjusted on our flights to reduce contact

Hand luggage is limited to one piece per traveler – see FAQ below
The air on board

Almost all our aircraft are equipped with High Efficiency Particulate Air (HEPA) filters that are capable of capturing up to 99.97% of microbes, like viruses and bacteria, ensuring a high air quality. The air on board is exchanged every 2-3 minutes. The air on board is pressed down from the ceiling to the floor. This makes it difficult for droplets to spread, as the air flow makes droplets immediately fall to the floor immediately. All our Airbus and Boeing aircraft are equipped with HEPA filters. Flights operated with ATR aircraft has another type of air filter on board, which ensures a continuous flow of fresh air to the cabin.